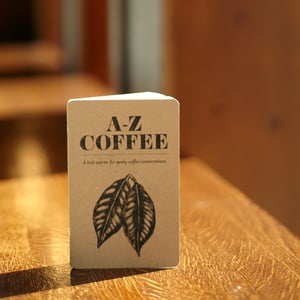 100,00

kr
Described by others as the first quasi-encyclopedia of third-wave coffee, a contemporary classic. This quirky illustrated book guides you to that geeky coffee conversation that you always wanted to partake in.
Presented as an A-Z, it is an art-book and conversational guide about coffee, specialty coffee and coffee culture, which is filling the gap in a market overflowing with purely informative, and at times frankly boring books.
Risograph- printed in London by Ditto Press on 100% recycled paper and bound with copper staples.
Featured in Barista Magazine, Sprudge.com, Superfuture, Esquire Korea, Dear Coffee I Love You, New York Times and Dagens Næringsliv D2.
Authored and illustrated by Lars K. Huse
Graphic design by: Harald J. Vøyle
Published by Kaffikaze